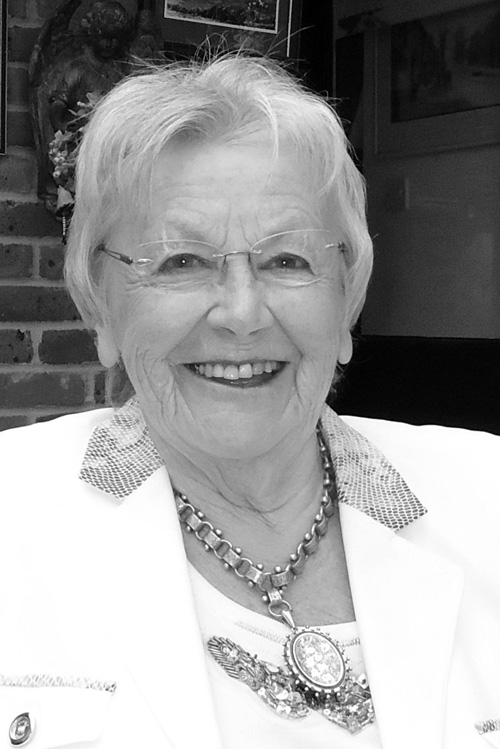 Margaret Miler is Founder, President and Director of Leatherhead & Dorking Gymnastics Club
Honorary Life Member British Gymnastics
Women's Artistic Brevic Judge
She formed the club as Leatherhead Gymnastics Club in 1976 having qualified and coached at Ladywell Gymnastics Club, then recognised as the leading gymnastics' club in the country. Her daughters were gymnasts at Ladywell with Louise achieving International Status and Catherine becoming Regional Coach and later establishing Bournemouth Gym Club.
Initially Head Gymnastics Coach at the Leatherhead Leisure Centre Margaret found a disused building in Epsom, where the club raised enough money to build a purpose built facility. In 1978 the present site was found, with a Lease being agreed with Mole Valley District Council. Funding applications were made to The Sports Council and the Playing Fields Association. The additional funding for the project was secured by a private loan.
The Centre was built in 1980 and officially opening in 1981, becoming the first purpose built gymnastics training centre in the country after the National Centre at Lilleshall. The club also became a Registered Charity – another gymnastics' first.
In 1987, recognising the need for an International Standard Coach, Margaret negotiated an agreement with The Russian Gymnastics Federation to bring world class coach, Vladimir Aksenov, to Leatherhead. Vladimir had coached Russian gymnasts to Olympic and World Title success. Within two years a club gymnast, Sarah Mercer was British Champion.
The club was extended in 1994 (Gym 2) with the support of a Grant of £100,000 from the Foundation for Sports and the Arts and further Sports Council funding. The club was also designated as a "Gymnastics Regional and National Centre of Excellence."
In 2005 recognising the need to meet the increasing demand for gymnastics Margaret embarked on the major project to secure a third gymnasium. Planning Permission was granted in 2005 and agreement reached to extend the site.
The cost of the new facility was £700,000 which she raised through UK Sport, Mole Valley District Council, SITA, Playing Fields and club input of £300,000. The new facility was built in 2007 and opened in 2008.
The club has achieved representation at Olympic Games, World and European Championships and Commonwealth Games.
With the completion of the third gymnastics hall Margaret provided an exceptional facility with an area of 1400 square metres. Margaret was awarded Personality of the Year 2008.
The club now has a membership in excess of 1800.
Following a stroke in December 2011, her husband, Paul Garber, joined Margaret as joint Director at the Club.
Paul is Life Vice-President of British Gymnastics.
Margaret Miler Achievements
Formed Leatherhead Gymnastics Club (to be changed to Leatherhead & Dorking Gymnastics Club in 1986).
First National Champion, Alison Isles in 1981 (coached by Cathy Miler).
Provided first purpose built Gymnastics Centre in 1980.
Club President and Director.
Vladimir Aksenov joins the Club in 1987 (Sarah Mercer British Champion 1989).
Karin Szymko (Commonwealth Games Gold Medallist Vancouver).
Provided second Training Hall in 1994.
Katy Lennon Olympian 2004 and Great Britain Team Captain.
Provided third Gymnastics Hall in 2007.
National and International Judge (Women's Artistic).
Competitions Secretary London and South East.
Committee Member and Women's Artistic Technical Chair South East Gymnastics.
Mole Valley Sports Personality of the Year 2008.
Award of Merit British Gymnastics.
Honorary Life Member British Gymnastics.
Club won first British Title Team Gym (2014).
Margaret has raised more than one million pounds for the facilities at Leatherhead.