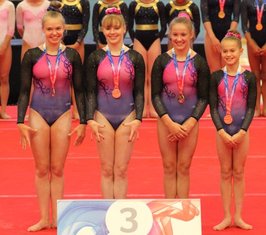 Four exceptional gymnasts from Leatherhead & Dorking Gymnastics Club achieved notable success in winning the Bronze Medal at the British Gymnastics Teams Championships held at The Surrey Sports Park. The gymnasts Izzy Hilliard, Megan Splain, Evie Lamb and Maddie Dodd had a faultless competition against strong national gymnasts. Of particular note was the performance of 10 year old Maddie competing against senior gymnasts.
Maddie has already qualified for the BG National Age Group Finals. While Izzy will be representing England in Slovenia next Month.
The Bill McLoughlin Inter Regional Teams Competition which will also be held at the Surrey Sports Centre on 11th November and we will also see Izzy Hilliard and Megan Splain representing the South East.
These results and selections represent an ongoing success story for the club ths Autumn.