Pre-Grades 17th March 2019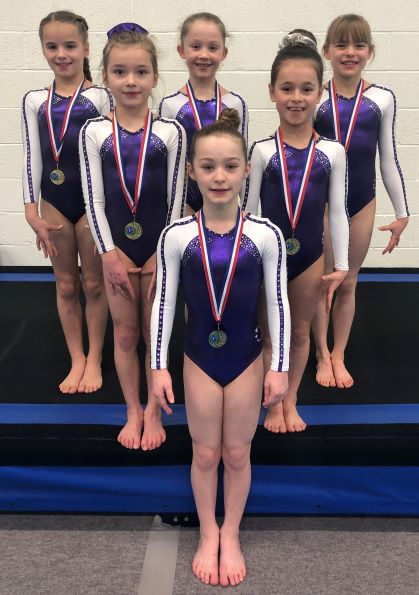 Four Gold medals and two silver was the result of another outstanding weekend for the Leatherhead & Dorking Gymnasts at The Guildford Spectrum . The South East Gymnasts Pre Grades provided these young gymnasts with the ideal preparation for the British Gymnastics Regional Grades Championship which takes place next month at the same venue.
Winning National/Regional Grades 4, 5 and 6 shows how the future beckons for these young gymnasts who are coached by Head Women's Coach Sadie Herbert and Lisa Marie Winteridge. Featured in the photograph are the Medal winner Isabella Hughes (National 4 Gold), Nancy Hanson (Reg 4 Gold), Sophie Phillips and Rosie May Elliott (Reg 4 Gold Grades 5 & 6) and Isabella Whiteway (Nat Grade 4 silver) and Izabella Mullen (Nat Grade 5 Silver).